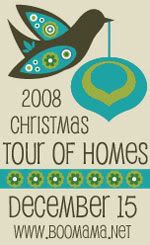 Oh, I'm so excited that it is time for BooMama's Christmas Tour of Homes to start! Welcome to By the Lamp Light, I'm Lora and I'm delighted that you've stopped by on this wonderful wintery day. May I take your coat or wrap?
Please make yourself at home here in the living room. The mantel is dressed with fresh greenery, pinecones and a bird's nest from our yard. And those darlin' children pictured are our teens (several years ago, of course!) The berry embellished vases belonged to my grandmother and they are year round hosts to *the sticks* as affectionately termed by my dear husband, the Salesman.
From the front door, you'll also be able to see this picture which is a *favorite* of mine and hangs in welcome year round. It is a dear treasure from my grandmother's home entitled "For My Eyes Have Seen My Salvation" (Luke 2:30).
When the Salesman reads the Christmas story, I sit and look at this picture of Simeon holding my dear and sweet Savior, Jesus. Every year, I position myself so I can take in the full beauty of this picture as the Truth of the Scripture reveals why the Light has come. Oh, I do pray that your eyes have seen salvation, too.
This family Bible is a year round fixture as well and was given to my parents by my dad's parents when they were married. It now finds its home here in the beautiful mountains with us. This year we celebrated 20 miraculous years of marriage; praise His Name! Oh, I'm rambling. Please come back and visit another day; today, I'll try to stay on tour schedule. But I do love to visit, so please stop by again. The Bible has illustrations "by the great masters of religious art together with interesting historical facts about the artists and their paintings." I'm a visual learner and so enjoy the paintings featured.
You've probably noticed, I tend toward the older items such as this deer planter. Every gift in this home has a story to go along with it. My dear mother, who is now alive with Jesus, gave me this planter when I was a senior in college and engaged to the Salesman. I have memories from seeing it in our home growing up.
And here is a snow village that my oldest teen enjoys putting on the piano. When I was a career woman, my boss started this collection for us. There is no greenery here because our darlin' piano playing teen tends to sneeze when playing if it's close by. I love hearing her play and sing and sometimes her teen sister, the violinist, joins in. And when the Salesmen adds his tenor voice, it is a slice of heaven. It would be wonderful if we could sing "O Come, Let Us Adore Him" right now.
Normally on the back of the piano, I have darlin' pictures of the children from previous Christmas card pictures. I love seeing them smile at one another, sporting matching outfits and the cutest hairbows ever in their sun bleached bobs. Oh, sweet, sweet memories these pictures are, so they have to be displayed on a bookcase. (Can you see the dusting of snow out the window? It is lovely.)
Just glance out the window and you'll see the snow on the holly. Isn't the whole earth just full of His glory?
Our tree holds special ornaments that in no way match or have a theme. It is just Christmas fun and dear memories to each of us. And our darlin' teens decorate the tree, which is a blessing! A couple years ago, one of them asked me how I did all the decorating year after year by myself. (The comment blessed me, yes it did.) Mama's just do that kind of thing without considering it a labor. It was a labor of love. But now I'm blessed with little teen elves that beautifully and quickly help with the holiday decor. I'm so excited about how the lights appear on this picture and I don't even know how it happened. Isn't that cool? If y'all have been around here long, you know that I'm a techno dinosaur, but this picture just tickled me.
And under the tree are boxes my dear mother purchased from a candy company. They come in all sizes and are perfect for the special gift for ladies with a big bow or great for the men on your list tied with simple cording.
Beside the cozy couch is an old wooden six sided puzzle that gets much use during the season. Christmas books have replaced our current reading stack and a painted picture by dear young hands stands where a picture of the Salesman's entire family normally greets us.
Are you all getting hungry? BooMama said we could offer refreshments, and since I wholeheartedly agree, let's head to the dining room. Oh, you want to wash up? Here's the teen's bathroom with the cute-as-a-button Crabtree & Evelyn gingerbread man soap that I found at T. J. Maxx last year with a price tag of 50 cents. I love a Christmas bargain, yes I do.
I'll meet you all in the dining room where the teens have made Oreo Truffles.Oh, just one will convince you that you have discovered your new favorite Christmas treat. So, please enjoy and I'll pour the hot chocolate. And please, make yourself at home.
I'm delighted to share the easy recipe:

OREO TRUFFLES
1 package Oreo cookies
1 8 ounce block of cream cheese, softened
24 ounces white chocolate almond bark, melted
12 ounces milk chocolate almond bark, melted

Crush 8-10 Oreo cookies at a time in the blender or food processor until they look like smooth crumbs. Once they are all crushed, place Oreo cookie crumbs into a mixer and add one package of softened cream cheese. Mix until well blended and no white is seen from the cream cheese.

Roll into small balls and place on a cookie sheet lined with wax paper. Freeze for 30minutes. Remove from freezer and using a candy spoon or a toothpick, dip balls into the melted white chocolate almond bark, place on wax paper until chocolate sets. You can dip them in the white chocolate bark again if you think they need another coating. Or just put the milk chocolate into a small Ziploc bag and snip off a very small corner and drizzle over the truffles. Enjoy!


Here is an upclose plate of truffles decorated by our youngest teen. Mmm... I always agree to be the taste tester when the teens are in the kitchen!
While we're in the dining room (and before you and I need to go start dinner) I'd so like to share a few more favorites with you. This lovely trio of angels from the 1960's graces my antique desk that is in the corner of the dining room. It is where I do my Bible study, writing, and spend my early morning time with the Lord. Underneath the glass, I have favorite Christmas cards from previous years.
And on my desk in my pen and pencil cup is the most precious, pink cheeked, curly eyelashed little drummer boy made by a darlin' teen whose once wee kindergarten hands brought her mama many treasures. I can say I've not seen any drummer boys that make me smile like this one does. Precious, precious memories.
And I've saved the best for last. If your family is like ours, we seem to congregate around the food and this buffet is in the center of our daily activity. This was my dear mother's nativity set and my father's hard working hands made the stable.
Thank you kindly for stopping by and I pray that your eyes have seen His salvation.